Customized candy creations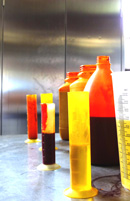 You have an own idea for a sweet, want to process your own ingredients in a candy or you discovered an interesting market niche? If you wish the production of a special, customized candy according to your own presettings, Edel is your right partner.
Talk with us about ingredients, flavours, colours, shapes or packaging. We help you with the creation of your product - professional advice included! Please contact us to coordinate the dates as we have to coordinate your test with our regular production schedule. In advance of the production itself we always produce a test batch according to your parameters. You can test the candies and give us further advice. This way we can correct the recipe if necessary and you get exact the candy you are looking for. Costs for a test batch on request.