"Genuine Bavarian Block Malt Candies" from Edel with new retail bag design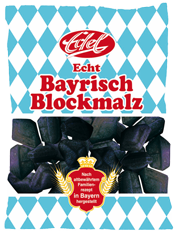 Bavarian Block Malt Candies, the popular traditional handmade specialty from Edel, are now delivered in a new 125 g retail bag. The sweets, manufactured according to an old family recipe, convince due to their strong malt taste.

The new look brings out the traditional manufacturing in Bavaria and the high contents of barley malt extract of 6,0 %. The basic design is dominated by the white-blue Bavarian rhombs and signals the origin of the candies at first glance. Below the transparent window, which allows a look on the intense dark candies, an emblem is placed. It calls the customers attention to the traditional manufacturing and the family recipe. The heads besides the emblem symbolise the use of genuine barley malt extract.

Edels "Genuine Bavarian Block Malt" are available in a neutral carton box with 40 pcs or in an attractive display with 15 pcs.