Eduard Edel candy factory celebrates its 150th anniversary
From today, the Eduard Edel GmbH candy factory can look back on 150 years of history and thus to one and a half centuries marked by a special treat philosophy and the production of traditional candies with outstanding quality. Edel is particularly proud of the artful production of the well-known silky shining candies, traditional fruit and herbal candies as well as the world famous Edel honey candies.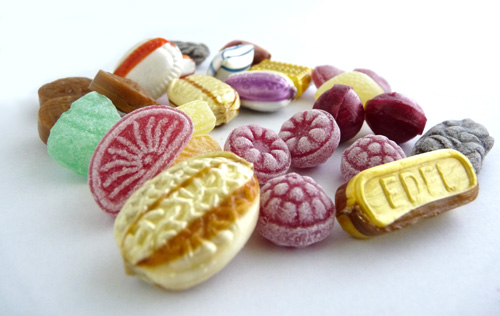 A selection of Edel candies: Silky almond bites, nougat bars, raspberry, cherry balls, orange & lemon slices, dried plum uvm.

The confectionery tradition in Donauwörth (located in western Bavaria) reaches back even 263 years: Already anno 1751 the mayor and grocer Johann Wolfgang Traber manufactured treats such as gingerbread and candies. The incorporation of "Edel" took place in 1864, on the 28th of october. Franz Conrad Edel married into the family of the confectioner Keilshofer and took over the business. The launch of a 150-year history was made. At that time, various confectionery and foodstuff for local needs were manufactured and sold in the neighboring grocery store. The namesake of the company, Eduard Edel took over the business later and had to build the company from scratch in 1945 after a heavy bombing raid on Donauwörth. After the death of his son Robert Edel in 2001, long-term employees, the families Lang and Wippel, took over the business since then and continued the candy tradition.

Special Products
The product range of Eduard Edel candy factory is very broad and includes more than 250 varieties. The specific product categories are:

- Silky Shining Sweets: This finely filled candies are real artworks due to their silky shiny look
- Honey candies: Edel is one of the top manufacturers in Germany and offers a total of six different filled honey candy variants
- Herbal Candies: A large selection is produced according to traditional recipes
- Milk candies: As one of the few manufacturers Edel still uses fresh cow milk and cream for its milk candies
- Fruit Sweets: Traditional, charming sweets in many shapes and colors inspire lovers of all ages
Celebrations in August
Due to the weather a small company party in the circle of employees and their families took place already in August. Historical documents and photos were shown to the guests and current investments have been explained. Wolfgang Fackler, member of the Bavarian Parliament, taught welcome and words of thanks to employees and guests as well as the management. A specially made anniversary cake inlaid with Edel candies sweetened visitors the day.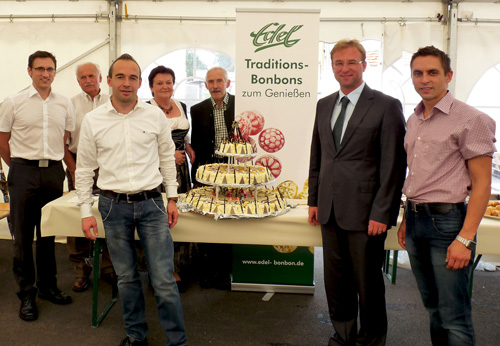 From left to right: Managing director Thomas Wippel, Franz Wippel, export manager Martin Lang, managing director Margret Lang, Georg Lang, Wolfgang Fackler (member of the Bavarian parliament), head of marketing Joachim Lang
For more insights into the Edel candy world, please watch our short movie: