Coco Bello – the new Coconut candy from Edel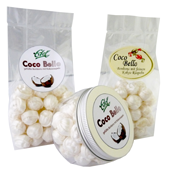 Coco Bello, the filled Coconut candy, has been successfully presented during the ISM trade show and is now available. The newest candy sensation from Edel brings tropical enjoyment to the point. Inside the silky shining white ball candy you can find an exciting filling with genuine organic coconut rasps.

The first look is enough to be addicted to this creation. The glossy white candy is shaped like a coconut and the color looks reminiscent on the fresh white coconut meat. The exterior does not promise too much: Beside the tropical coconut taste the candy stands out due to its filling made from genuine coconut rasps in organic quality. The special texture of the filling and the exciting flavor make this candy to a unique one amongst all Edel products.

The Coco Bello Coconut balls from Edel are available in 5kg bulk bags (Art-No. 305) as well as a refill package (20 x 150g block bottom bags in a box – Art-No. 305032). Other packaging options are available on request.