Eduard Edel presents new "EDEL Exquisit" bag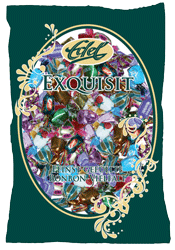 Finest filled candies in one assortment: With the release of the new 350 g bag, Eduard Edel GmbH offers quantity and quality at once. The product is ideal for all people, that can´t decide in the face of the tasty candy variety. "Edel Exquisit" includes many different candies with tastes like fruit, milk, coffee and nuts in one noble mix.

The selection of the candies is equal to the previous product "Bonbon-Konfekt", which has received not only a new design but also a new name. The Denomination as well as the design underlines the high expectations towards quality and exclusivity, which Edel stands for. The dark green and the golden ornaments convey a sense of value and point to a product of the premium class. Only the best and finest filled candies from Edel are a part of this noble mix: the name "Exquisit" is program for the selection of the candies. Typically for all Edel candy bags, a transparent window allows a view on the wrapped candies.

The Edel Exquisit 350 g bag is available in a neutral carton box with 12 pcs or in an attractive display with 7 pcs.