Enjoy coolness – Edel "Ice Crystals" get a newly designed bag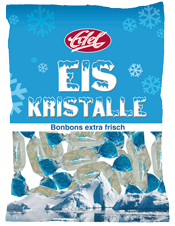 Edel Ice Crystals are a popular candy for refreshment at home or away for many years. The Eduard Edel GmbH offers this cool candy now in a newly designed 150 g bag. The classic formula and the desirable feeling of coolness in the mouth remain unchanged.

The new bag with the iceberg emphasizes the feeling of ice cold refreshment, which is promised by the candy. Ice Crystals are probably the sweetest cure for global warming. The dominant color blue also determines the appearance of the new bag. However, the print doesn´t cover the whole bag – in the middle of the bag, a window allows a look on the wrapped ice candies. The Edel logo in the center of the bag underlines the exclusive character of the candies. With the new product, Eduard Edel continues the long tradition of ice candies and sets on the traditional art of candy-making, combined with innovation.

Edel "Ice Crystals" are available in a neutral box of 30 pcs. or in an attractive display with 13 pcs.