"Honey special" from Edel gets a new bag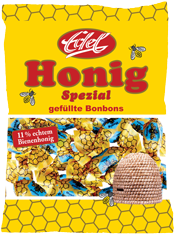 Eduard Edel GmbH, manufacturer of premium honey candies, presents a new 100 g retail bag for it´s "Honey special" candies. The sweet stands for pure and straight honey consumption and is an inherent part of the large honey sweets programme from Edel. Due to it´s high contents of honey of 11%, the candy is loved by connaisseurs and even beemasters.

In consequence, the item "honey" dominates all design elements of the bag: The honeycombs in the backgrund, the bees and the classic bee hive. A transparent area in the middle of the bag allows a view on the yellow-blue wrapped candies, a disquieter attracts the attention to the high contents of honey. The colours yellow and red can be seen as an appreciation to the former bag, which is known by clients all over the world. The "Honey special" bag now fits into the new designed Edel retail bags line. Unchanged remain the proven formula, the high class raw materials and the artisanal production of these sweets.

Edel "Honey special" candies are available in a neutral box of 50 pieces or in an attractive counter display of 15.