New bag "Milk & honey" completes the honey candy range from Eduard Edel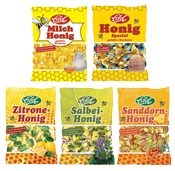 Together with the release of the new bag "Milk & honey", the reworked honey candy range of Eduard Edel GmbH is completed. Due to the use of 43 % of fresh whole milk and bee honey, the candy is a veritable sweets classic and stands for the most agreeable honey regalement. The 100 g bag of the bestseller is the flagship amongst the other candies of the honey range, which includes "honey special", "lemon & honey", "sage & honey" and "sea buckthorn & honey + VC".

The new bag emphasises the combination of whole milk and honey. Even the bag was integrated in the new design, it keeps some typical elements: The headline, placed in the white button and a cheery comic bee. This is a homage to the previous bag, which has enthused clients for many years. Furthermore, these own elements back up the special status of the candy within the honey range. However, the new design elements of the range like the transparent window and the deranger aren´t missing. On the lower right side, there are pictures of a milk churn and a honey cup. They stand fort he smooth taste of the candies and the first class ingredients.

The 100 g bag Edel "Milk & honey" is available in a neutral carton box with 50 pcs. or in the printed Edel display with 15 pcs.