New packaging for candy artworks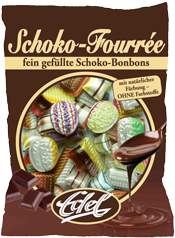 Since july "Chocolate Fourrée", the classy candy from Eduard Edel Bonbonfabrik (Donauwörth, Germany), is sold in a newly designed bag. The variegated tasty candy artworks with filigree stripes and many different natural colourings and shapes are packed in a noble, dark brown bag with 125 g contents.

The design of the bag emphasizes the intensive chocolate taste and the noblesse of these finely filled candies which are only produced by Eduard Edel anymore. A transparent window in the middle of the bag allows customers to have a look at the unique sweets. Despite the many intense and shining colours, the candies are produced only with natural colouring plant extracts. The strong chocolate taste in the smooth cover is completed by a crispy filling, made from cocoa mass and selected hazelnuts.

The candies are available in a neutral carton box with 30 bags or in an attractive display with 15 bags.