Sea buckthorn honey+C – The new candy from Eduard Edel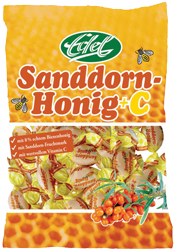 Eduard Edel GmbH, manufacturer of high class honey candies introduces a new flavour into the market: Sea buckthorn & honey with vitamin C. The candy is hand made by the use of high quality ingredients like sea buckthorn fruit pulp powder and genuine bee honey. The new sweet represents another interesting flavour amongst the honey candy series from Eduard Edel and is expected to have a huge market potential.

The taste of the outside is dominated by the fine acerbity of sea buckthorn. In the middle of the candy, the well-proven honey filling can be found. This way, the combination of acerbity and sweetness unfolds a unique taste, which is supposed to be delightful for sea buckthorn lovers as well as for honey fanciers. To meet customer´s expectations towards the high contents of vitamin C in sea buckthorn, some of the vitamin is added to the candy besides the contents of natural vitamin C. Only three candies cover 25% of the recommended daily intake of vitamin C. The design of the new bag emphasizes the contents of sea buckthorn fruit pulp by its orange colouring and the pictured arm. The honey contents of 8% is communicated by a honey comb pattern in the background and stylized bees.

The 100g bag "Edel sea buckthorn & honey + C" is available in a neutral carton with 50 bags and in the Edel shelf display with 13 bags. Self packers can also order the wrapped candies in 5 kg bulk.