Enjoyably hot & fruity: The new sugarfree ginger & orange candies from Edel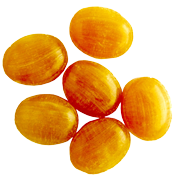 Ginger candies meet the current trend. No wonder: more and more people like the heat of ginger and the intense flavour experience. In addition, ginger is told to have positive impacts against colds and sickness. As pure ginger is too hot for some people, Edel has refined the new sugarfree candy with a glace of orange.

In the new candy, the heat of ginger and the fruity mildness come together: A combination that catches on. Edel manufactures the candies by use of high class ingredients only. Genuine ginger extract ensures heat, taste and effect. The fruity taste ist caused by genuine orange oil. As sugar substitute Edel has chosen ISOMALT, which comes originally from the sugar beet. ISOMALT, which ist he basic ingredient for all other Edel sugarfree candies also, has many advantages: they are salubrious, tooth-friendly and have a low glycemic index, which is important especially for diabetics.

The ginger & orange sugarfree candies are available transparently wrapped (Art-No. 418) or unwrapped (Art.-No. 408) in 5 kg bulk. The new flavour completes the Edel range of sugarfree herbal candies which already includes eucalyptus menthol, sage, alpine herbs and aniseed fennel.