Now available:
Sugarfree Raspberry candies in a nostalgic look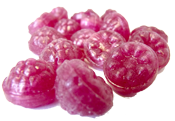 Sugarfree candies don´t have to be boring! Eduard Edel GmbH adduces the evidence: With its sugarfree raspberries in the traditional berry shape Edel shows, that also sugarfree candies can have a classy charm and the certain something in taste and look.
The brand new Raspberry sugarfree combine the advantages of Isomalt based candies and the amenities of traditional, handmade sweets. Many people remember Edel candies from their childhood days and associate special moments of enjoyment with these candies. Now, the can get back these memories also with a sugarfree candy!
The sample package of the new Raspberry special will be a parcel stuffer the next weeks. This way, all Edel clients can get a personal impression of the quality, the taste and the intense red look of the candies. Raspberry sugarfree (Art. Nr. 430) are available unwrapped in 5 kg bulk. The series of nostalgic sugarfree candies is completed by "Mulled claret hearts sugarfree" for the winter season.