Whole milk coins from Edel with new retail bag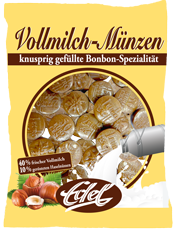 Whole milk coins, the popular traditional candies from Eduard Edel, are offered in a new retail bag since august 2011. The candies, which are hand made to a classic recipe and in the traditional coin shape, are also known as "Milk Money".

The design of the bag underlines the precious ingredients of the product like fresh whole milk and hazelnuts. On the bag like in the candy, there meet a jug of fresh milk and selected hazelnuts. The percentages (40% fresh whole milk, 10 % hazelnuts) are shown in a graphic teaser, which calls the customers attention to the high quality. The base colour is kept like the previous bag, as it has been a top seller and a classic in the sweets market for many years. The traditional recipe is unchanged since a long time. The last change was due to the introduction of the Euro, as the coinage of the milk money was adjusted to the new currency symbols. But till now, Eduard Edel still owns the old embossment and can quickly react to a return the the "good old German Mark, the DM". For a better differentiation, the unfilled milk coins are sold even today with the old DM symbols.

Edel milk coins are available in a neutral carton box with 40 pcs or in an attractive display with 15 pcs.